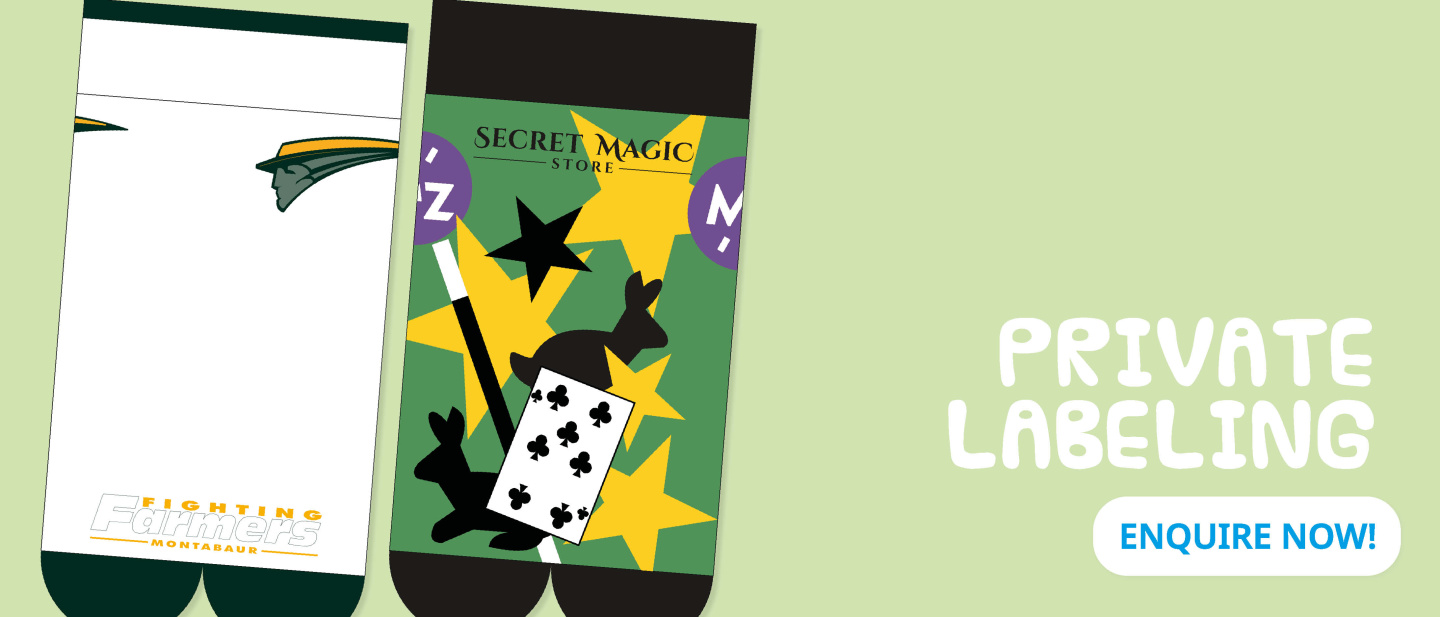 CUSTOM SOCKS
You want to design your own socks for customers, companies or an association? No problem with our private labeling service!
Everyone needs socks and almost everyone loves socks - especially if they are colorful and specially and in the best case still underline their own individuality. Socks have long been more than just a practical piece of clothing. So it's no wonder that more and more companies, associations and brands are opting for their own sock collection. Also to make fans, members, customers or employees a very special pleasure. Whether as a fancy customer gift, give-away or as an official merchandise product.
Thanks to modern production techniques and with the right partner, it has never been so easy and uncomplicated to design socks with your own design, as with private labeling by UnaBux! Almost any motif is possible and there are no limits to creativity.
UNABUX-SOCKS-STANDARD
SIZE | 36-40 and 41-46
MATERIALS | 80% cotton, 17% polyamide, 3% elastane
QUANTITY | free from 1.200 pairs/design
DELIVERY TIME | about 8 weeks
DESIGN | Germany
PRODUCTION | Turkey
DESIGN
Socks with company logo, socks with club logo, unusual motif socks and socks in completely individual design - thanks to our private labeling service, companies, clubs and institutions can easily realize their very own socks collection. For example, in the high-quality standard of the successful socks from UnaBux: with hand-chained toe and pique band, made of combed cotton, for the best quality and maximum comfort and according to Oeko-Tex Standard 100. For each design we create high-quality designs "Made in Germany", which we optimize together with our customers until everything fits 100 percent. On request, we also manufacture sample socks!
PRODUCTION
The production of our private label socks takes place under the highest standards in Turkey - with a delivery time of about 8 weeks. Up to seven yarn colours can be selected for the motifs, the standard sizes for women's socks are between 36 and 40, for men's socks between 41 and 46. Of course, all criteria, up to the composition of the fabric are individually adaptable. Our private label socks – like our UnaBux socks – are made of 80% cotton, 17% polyamide and 3% elastane. And of course, the packaging can also be individually designed up to the hang tag.
CONTAKT
Contact us and ask the UnaBux sock experts about the possibilities for your own sock collection - for your clubs, your company or your brand. With us you have found the right partner for high-quality individual socks. Soon customers, partners, employees and fans can wear their individually designed socks. With UnaBux - the experts for private labels and fresh accessories! Click here for contacting us.